South Dakota Governor Noem Reverses Her Pro-Transgender Position One Year Later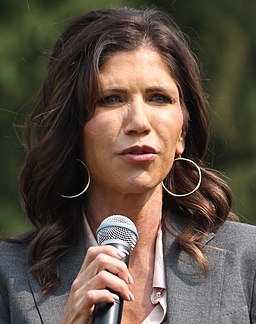 Public Advocate told the world of Kristi Noems rejection of pro-family legislation last session of the South Dakota legislature. Noem claimed she was afraid of corporations punishing her state for defending women in sports and women in bathrooms, said Eugene Delgaudio, president of Public Advocate.
Delgaudio said "It looks like Noem signed exactly the bill we wanted her to and what she promised publicly before betraying all of us. Which would mean that our efforts last year showed her the price she would pay if she crossed us again.
This is a victory for our long executed nationwide "State Agenda" tactics. In plain English "We know what we are doing." We can not and are not going to give much credit to Noem, but point out that she only did this because we forced her too. Public Advocate relentlessly confronted Noem. We give a big shout out to the legislature and full credit for standing for conservative values over Noem's objections including the wonderful leadership of the current Speaker of the House Spencer Gosch.
"Gov. Kristi Noem signed Senate Bill 46 on Thursday, codifying a debate about fairness in sports and transgender participation that has played out in the South Dakota Legislature since 2015.
"This bill has been an important priority for a lot of the people behind me," she said moments before signing the bill. "I appreciate all of their hard work in making sure that girls will always have the opportunity to play in girls' sports in South Dakota, and have an opportunity for a level playing field, for fairness, that gives them the chance to experience success (and) go on to potentially play at a higher level, earn scholarships, perhaps play professionally, and have a career."
That means sports participation in South Dakota is now mandated to be segregated by sex assigned at birth - either for boys or girls or coed sports. The bill takes effect July 1."