Nuns Sing Fairwell To Boston: Homosexual Lobby Destroys Saint Patrick's Day Parade in Boston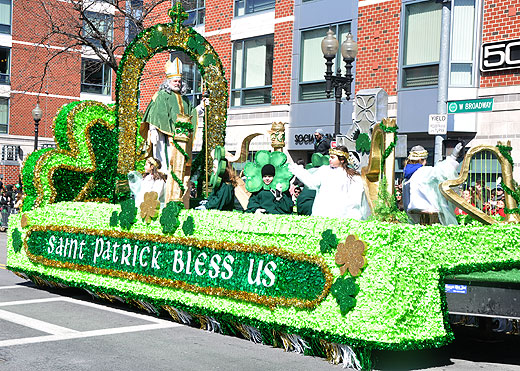 The Immaculate Heart of Mary School's float of St. Patrick had been synonymous with the South Boston parade for over 20 years. But the school now refuses to be a part of the parade. [All photos by MassResistance.]
NOTE: This article by MassResistance researcher Amy Contrada originally appeared in American Thinker on 7/20/18.
In 1995, a remarkable 9-0 ruling was handed down by the U.S. Supreme Court. A Catholic veterans' group, organizers of the annual St. Patrick's Day Parade in South Boston, were vindicated in their refusal to allow a homosexual activist group to march in their parade. The Court confirmed that the South Boston Allied War Veterans Council was protected by the First Amendment and could reject a group if it "impart[ed] a message that the [parade] organizers do not wish to convey."
Twenty-three years later, orthodox Boston Irish Catholics will no longer have the prominent public voice on St. Patrick's Day. They've been elbowed out by secular celebrants of disordered sexuality.
South Boston has fallen. LGBTQ radicals have just seized complete control of the St. Patrick's Day Parade, with the director of a front group, OUTVETS, put in charge of the event.
more here:
http://www.massresistance.org/docs/gen3/18c/St-Pats-Parade-Destroyed/index.html
HAT TIP to Mass Resistance
[VIDEO: The only Catholic group to publicly object was the Immaculate Heart of Mary School in Still River, MA, which had run the famous St. Patrick float (above). In 2015 they pulled out of the parade rather than compromise their faith. The nuns composed this song, "The Leaving of Boston."