Roseanne Barr Saves The World With 18 Million+ Viewers, President Trump Congratulates Her
Developing
"America turned out, more than 18 million strong, on Tuesday night, without advance notice and as a giant force arrived as a wave to cheer Roseanne Barr's return to ABC TV. She's a "woke liberal" who is merely like any average American and a blunt force trauma to the sensitive liberal egos crushed by her truthful life observances about patriotism, love of family and her friends which include President Donald Trump, " says Eugene Delgaudio, president of Public Advocate.
(photo from BBC)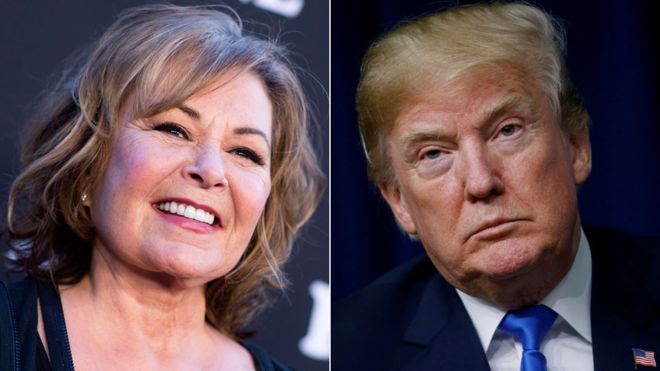 From the Hill news which is in complete collapse from this political earthquake:
Roseanne Barr says she chatted about "television and ratings" in a congratulatory phone call with President Trump following the premiere of her self-titled sitcom.
"Roseanne" debuted to stellar ratings for ABC on Tuesday, reportedly averaging 18.1 million viewers to the politically charged show. Barr plays a Trump supporter on the show who clashes politically with her family. In real life, Barr has expressed support for Trump.
"We just kind of had a private conversation, but we talked about a lot of things and he's just happy for me," Barr said in a Thursday interview with George Stephanopoulos on ABC's "Good Morning America," describing her chat a day earlier with the commander in chief.
The conversation between the TV star and Trump was first reported by The New York Times.
"I've known him for many years and he's done a lot of nice things for me over the years. And it was just a friendly conversation about working and television and ratings," Barr, 65, continued.
"He really understands ratings and how they measure things," Barr said of the former "Celebrity Apprentice" star-turned-president. "And that's kind of been an interest of mine too."
http://thehill.com/blogs/in-the-know/in-the-know/380779-roseanne-barr-on-conversation-with-trump-hes-just-happy-for-me