131 Conservatives: McConnell Is "Turtle" Responsible for Slow Confirmations
It is Republican Leadership that is responsible for the slow pace of confirming President Trump's nominees primarily by meeting less frequently and working less time, Mitch McConnell is the "lazy boy" of Senate history. He is so slow, he is the actual turtle in the comic memes," says Eugene Delgaudio, president of Public Advocate.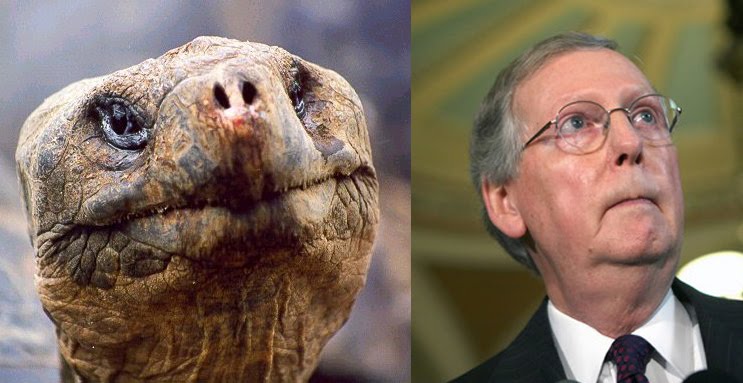 The Daily Signal says:
President Donald Trump has not been able to fully implement his agenda, in no small part because the Senate is not confirming his nominees, conservatives say, urging the Republican Senate leadership to prioritize and expedite the confirmation process.
The Conservative Action Project, in an Oct. 10 memo, noted that Trump has had fewer executive branch nominees confirmed than former Presidents George W. Bush and Barack Obama at the same point in their first terms in office.
It says that Bush had 358 of 610 nominations confirmed by now, and Obama had 341 of 505 nominees approved. The comparable figures for Trump are 161 of 398.
The memo says the problem stems from the fact that the Senate is only working about 2 and a half days each week, while previous Senates worked longer hours. It also takes issue with Republicans blaming Senate Democrats for obstructionism, contending that's no longer a legitimate excuse.
http://dailysignal.com/2017/10/13/conservatives-fault-senate-republicans-slow-confirmation-trump-nominees/